The Sharp UP811F combines traditional cash register functions with the flexibility of a modern colour touch screen machine. With an integrated 80mm thermal printer, it allows for good quality receipts with ample space for company logos and other text to promote your business.
Based on Sharp's renowned embedded POS technology, the UP811F is stable and robust and is able to cope with the demands of the hospitality business. The UP811F is also expandable and it allows for a network of machines to be linked together for a seamless and integrated system. With a total of 144 spill-proof keys, expandable by using the colour LCD touch panel, the UP811F is the idea workhorse for any growing hospitality outlet.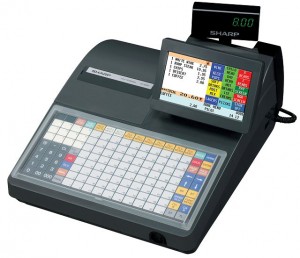 – integrated fast thermal printer
– add your company logo and header and footer text to the receipt.
Don't worry about spillages
– the keyboard is protected with a rubber cover
Minimise mistakes
– use the touch screen for easy product layout
Reliable
– your data is safe thanks to the Sharp embedded technology
Easy to view
– Tilt-able 6.5 inch backlit touch-screen colour display
Peace of mind
– SD card slot for data back-upE
asy to view for the customer – Large LED customer display
Maximise Sales
– with the comprehensive and flexible promotion menus
Expandable
– RS-232 interface ports
Quick Service
– Connection to barcode scanner and/or scale
Speed up your operations
– using the Sharp Auto key function
Management Control
– Flash reporting and comprehensive report capability
Foster Customer loyalty
– Bonus points feature & Customer relationship management features
Improve Information
– PLU information text for product information, recipes or wine-tasting notes
Minimise mistakes
– integrated optional Chip & PIN available.Keep a close eye on each transaction
– optional CCTV system available
Go cashless!
– optional smartcard and loyalty system available
Control your shelf displays
– optional shelf-edge label printing solutions available
Full Back Office control
– with the optional back office software suite